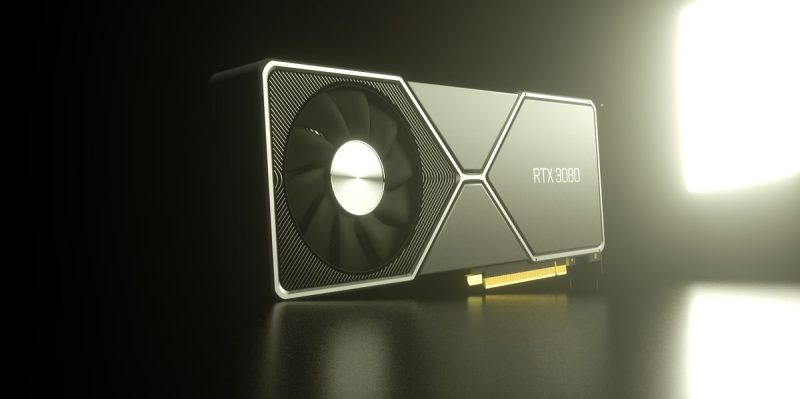 Your GPU runs on the full potential when you game or any graphic intensive task. There is literally nothing you can do to prevent it from heating (keep AIO equipped GPUs or underclocking aside). What you can do it to monitor the fans and ventilation to keep your hardware safe. Most GPU comes with built-in fans to maintain proper airflow by throwing heat which exhausts fans further throws outside the cabinet.
If you're using above mid-range GPU, including the new 30 series you'll have 2 and more fans and a metal-plate that store heat so it can disperse that heat inside the cabinet; now it really depends on your exhaust fans placement.
When the GPU fans keep spinning, it maintains a controlled temperature that should never cross 80-degree Celsius or you're abusing the beautiful series 30 GPUs.
by default in order to make your computer silent, companies like MSI and Galax have in-board-memory settings that don't turn the fans on unless it hits the threshold. I have an MSI 2070 that by default doesn't turn on fans until it hits 55/65 Degree celsius temperature. I'd rather install MSI afterburner and set the fans to run on about 50% all the time. I do care about my GPUs temperature and you should too.
Fixing Series 30 GPU Fans Not Spinning
So when your GPU fans don't start; it's normal and you can take command to run the GPU fans at any speed you want.
1. First, see if it's really hot
Fans on GPU are either loud or very quiet; depending on the hardware. Start with playing a game and see if you can hear them spinning.
There are many ways to view GPU temperature, RIVA's statistic tuner shows this in the taskbar on on-screen.
Recently Windows 10 Task manager got the ability to display GPU temperature. Task Manager > Performance > GPU
A tool goes by the name Core Temp shows you the temperature of GPU.
Usually, your GPU fans won't be spinning unless it's hot enough. Once the heat rises the fans start with a pre-configured speed; they won't be spinning at the full speed yet. Gradually fans speed increase when the temperature rises; then the fans help to prevent the GPU from running too hot to handle. You know what happened when if your GPU or CPU gets too hot; your computer commands it to force-off to prevent hardware damage.
2. Check fans with Afterburner
Normally if you haven't screwed your GPU fans, you can manually turn them on and even control their speed as it seems fit.
Download MSI Afterburner, It's for MSI labeled Nvidia GPU's but should work with any GPU theoretically.
You'll see the Fan speed slider just above the settings and reset button.
Now click at the farthest right-side are to the slider that allows you to set a custom fan speed. Use the slider and set it to the maximum. That should instantly make your GPU fans spinning.
TIP: You can control your GPU fan speed and set a speed of your choice. For that click the Auto button you find near the Fan speed slider. The auto option basically turn on your graphics cards fans only if a certain amount of temperature is triggered.
3. Basic GPU maintenance
Suppose your GPU fans aren't running because something is not letting them. I am sure you're not one of those weirdos who have their cabinet filled with dust clogged with spider nets. What I am exaggerating here is you should open up your cabinet and try to clean it with an air-blower.
Here is a checklist of things you should be doing to ensure something isn't jamming your fans.
Open the cabinet and look closely under the GPU, if there are some cables preventing fans from spinning, manage them. Make sure the fan blades aren't jammed with anything. Double-check by manually spinning them.
If you can spin them manually, either follow step 1 and in case it didn't help, double check your power supply cables.
4. Change power connectors
Series 30 comes with a new pin connector that should work with your old PSU with the 6+6-to-12-pin adapter. Ensure you're connecting them properly, GPU needs to draw enough amount of power in order to work; but if you have a good PSU with plenty of capacity this would be the case.
One thing that I would like to mention here is that the pin adaptor comes with founders edition is terrible by design; a beautiful GPU doesn't deserve this.
5. Update drivers
You either use Nvidia or budget-friendly AMD GPUs and when you have it's mandatory to install the latest drivers. Unfortunately, Windows 10 automatic updates usually install a very stable version which is usually a few months old. Open with the Nvidia support page and grab the latest driver package from there and install it manually.
NVIDIA offers game ready and creator ready-drive package. If your purpose is pure gaming; install the gamer ready driver. It delivers out-of the box optimization for A titles and battle royale games.
It sounds weird because it is if you recently upgraded your GPU have the drivers updated.
For any 30 Series Nvidia GPU, get a driver from this support page.
Restart your system.
Conclusion: why aren't my gpu fans spinning
GPUs usually built to last longer just like CPUs. If it's your normal day; you might just install MSI afterburner to kick-start fans, things will go really smooth. Now, it's not a foolproof guide, other issues can severely affect GPU fans from keeping them running; let is be bad BIOS, old motherboard, or bad slots.
That being said if you have a series 30 graphics card you invested your money wisely and 2 minutes silence for those who bought RTX 2080 ti.
This story works perfectly for RTX 3080, 3090, 3070 and 3060Ti.